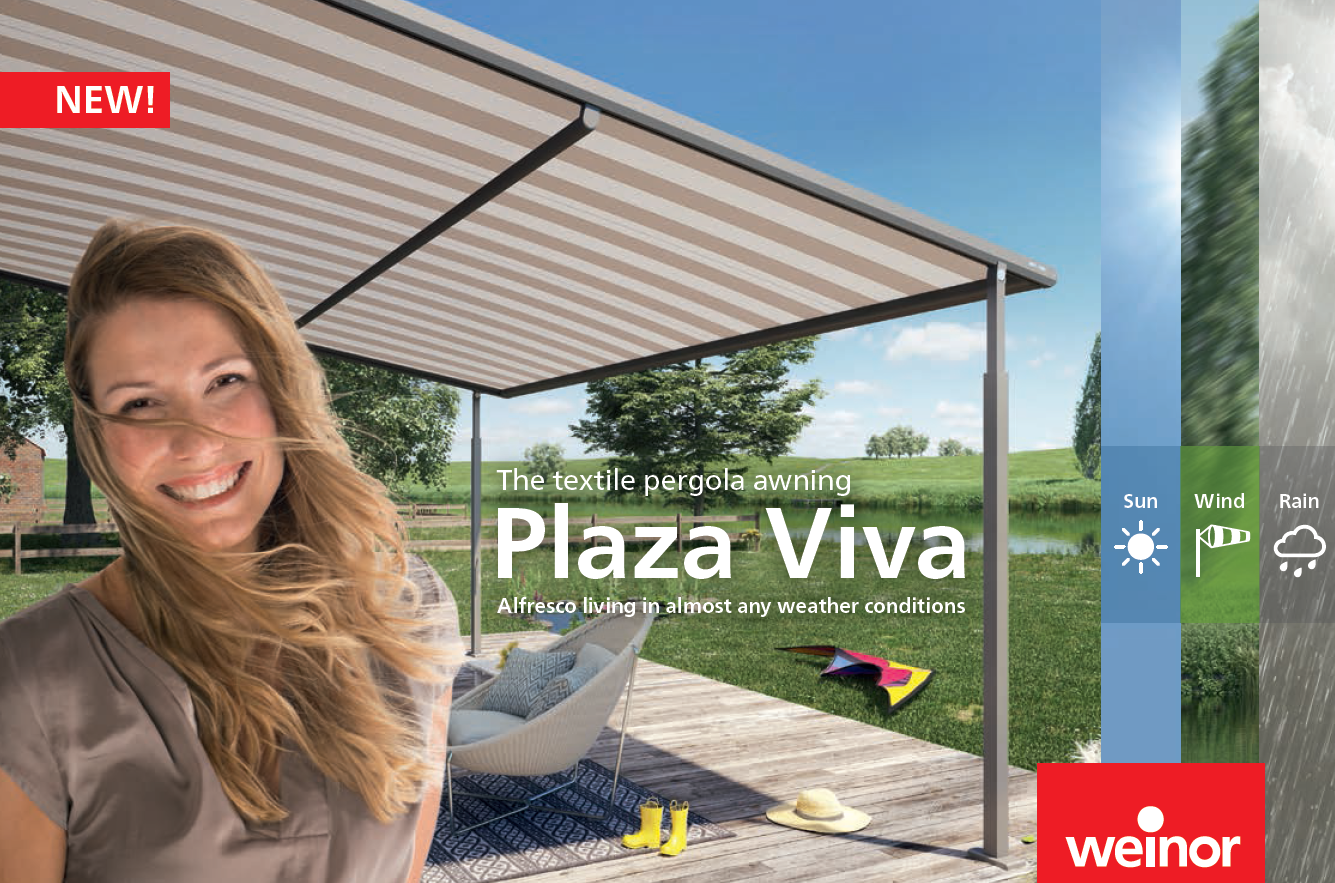 The New Generation of Awnings from Weinor
With a wide range of fabrics, colours and operating systems to choose from, we are confident that we can help you find the perfect product for your requirements. Suitable for the domestic, commercial and education sectors alike, all our products are fitted to the highest professional standards with fantastic repairs and after sales service available. For more information about any of our awnings or canopies please don't hesitate to contact us.
NEW! Plaza Viva – the textile pergola awning
Alfresco living in almost any weather conditions! With the Plaza Viva textile pergola awning you can now use your patio for even longer with even less worries – virtually regardless of the weather.
The individualistic Zenara/LED designer awning positively melts into the wall – a harmonious addition to modern houses and an interesting contrast to older buildings.
I / K / N 2000 - proven technology, timeless design
This proven classic cassette awning can be used virtually anywhere.
Opal Design II – so classic
The appeal of the Opal Design II/LED is its well-balanced shape that never goes out of style. The dimensions of this awning and the possibility of combining it to form a multi-section unit make it ideal for large patios.
Semina Life / LED - the all-rounder
Semina Life is the all-rounder among cassette-awnings. It impresses due to its modern, fresh design combined with weinor's technology tried and tested over many years.
With its extra-slim design and clean lines, the Cassita II works in perfect harmony with modern home interior trends. Its dimensions make it ideal for most patio sizes.
Semina - youthful design, potent technology
The Semina combines a fresh, youthful design with proven technology and reliable quality. The semi-cassette provides for safety, the safe protection of the fabric and technology and therefore also for an exceptionally long service life.
Livona - so unconventional
Puristic and back to the essentials of a textile awning: that's the weinor Livona open awning. Suitable for almost every application and packed full of innovative features.
Commercial Awnings
First-Class Solution for your Enterprise
With Commercial awnings and patio roofs you instantly increase your sales area and your turnover. Awning products provide your guests with sun, wind and rain protection. At the same time all; the textile products give you the perfect opportunity to use them as a commercial area for your logo or brand.
Education Sector
Children love to play outdoors in all weathers and seasons. These fittings provide a safe environment for children to play in, protected from UV rays, as well as the other elements. Regnum Blinds have a good range of child-safe awnings ideal for schools, nurseries and daycare centres. Our products are sourced from industry leading suppliers combining cost effectiveness, durability and appearance to give you the best product for your requirements.
Pubs, bars, restaurants & cafés
Whether it is to introduce sun protection to an outdoor seating area, protect your customers from the rain or extend your restaurant space installing an awning product outside can help your customers feel at home. Signwriting options also make the products ideal for advertising.
Hotels
Offer your guests a comfortable environment that they can use around the clock whether having breakfast outside on a spring morning, a drink before dinner, or a relaxing afternoon. Then addition of LED lighting or heating makes the most comfortable of places in more usable.
Shops
The most traditional form of shading, weather protection and advertising for the high street. Shops use awnings to protect from sunlight and glare, to protect stock in the shop window - from fresh produce to expensive furniture. The addition of sign-writing to the valance or main cover adds an additional message to your customers.